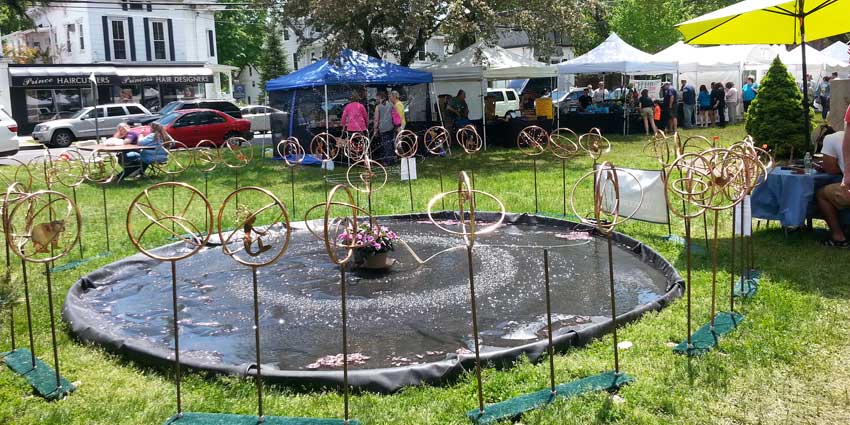 The uptick in temperature has Milfordites emerging from their winter dens in search of some good old fashioned family fun. Fortunately here in town there are a wide variety of festivals, fairs, and feasts for everyone. Be it art, culture, competition, history, or culinary goodness, nearly every weekend in Milford offers up an event with food, fun, and entertainment to keep your calendar full. All family friendly, these events engage our community together to enjoy a well deserved good time.
Spring Arts & Crafts Show
Saturday, May 7, 10:00 a.m. – 5:00 p.m.
Sunday, May 8, 11:00 a.m. – 4:00 p.m.
http://www.eastcoastcraftshows.com
Mother's Day weekend is made all the more special with the Downtown Milford Business Association (DMBA) sponsored Spring Arts & Crafts Show. Exhibitors from throughout New England will display a wide variety of handcrafted items for all to see…and purchase! It's a great time to stroll along the Milford Green with your Mom and enjoy a spring day. This is a juried show offering exceptional items for varying tastes. There will be music, food, and fun for all. Admission is free.
Milford Living Kite Fly
Saturday, May 7, 12:00 p.m. – 3:00 p.m.
The 10th annual Milford Living Kite fly is fun for kids of all ages. Just a fun fly, it's a great time to let the kids run and romp towards getting their kites aloft. Once again the Connectikiters will be flying their amazing kites! They are always willing to help the amateurs. Free kites and bubbles for the kids while supplies last. Free and open to the public, this event is held at Walnut Beach.
The Mary Taylor Fair on the Green
Friday June 3
Saturday June 4
The Mary Taylor Methodist Church Fair on the Green celebrates its 45th anniversary this year. A favorite of locals, this church fair is manned by hundreds of volunteers. Vendors abound with all manner of goods and goodies. A fantastic rummage sale held in the church basement holds treasures to be found and something for everyone; a golf club, a charming vase, or a well-loved toy. The food, cooked to perfection by parishioners, features cheeseburgers, black bean burritos, strawberry shortcake, funnel cake and more.
Captain Kidd Day
Sunday, June 12, 12:00 p.m. – 5:00 p.m.
Put on your eye patch, get your parrot on your shoulder, and say arrrgh! Captain Kidd and his crew will be sailing into Milford Harbor to take over the town! Bring the kiddies to the biggest scavenger hunt in the state. Follow the map, solve the clues, and collect your booty. Get stamps from each stop and be entered in a drawing to win a Pirates Chest of Treasures. The DMBA has been welcoming pirates for almost a decade. Listen to music by the Elwoods at the Gazebo and tap your toes to Milford's own Fife and Drum Corp on River Street. Fun activities will be available for children on the Green. Pirates will sail away at 5 bells for the Seven Seas.
Milford Rotary Lobster Bake
Saturday July 23, 3:30 p.m. – 7:30 p.m.
www.milfordrotary.org
Celebrating its 40th Anniversary this year this annual feast draws lobster lovers from all across New England. The setting right on the harbor can't be beat as you dine on lobsters…and steak if you aren't a shellfish fan. Dinners include, corn on the cob, coleslaw, bottomless wine, beer, and soda. A live band keeps the afternoon lively. Tickets sell quickly so get them early. The event raises money for the Milford Rotary scholarship fund for students going off to college from Milford.
Walnut Beach Association Arts & Crafts Festival
Saturday, August 6, 10:00 a.m. – 5:00 p.m.
www.walnutbeachassociation.com
The arts colony of Milford, Walnut Beach will hold its 18th Annual Art & Crafts Festival. Early birds can watch the 5K starting at 8:00 a.m. or race themselves. All levels are welcome and the race concludes around 10:00 a.m. Held on the Corner Green across from the entrance to Walnut Beach, craftsman and artisans will have all manner of their wares to browse and buy. Woodworking, metalwork, pottery, ceramics, clothing, and jewelry. This is a juried festival, so all arts and crafts are one of a kind. A wide range of musical acts will play throughout the day. Food vendors will offer fest favorites for all to enjoy.
Milford Oyster Festival
Saturday, August 20, 10:00 a.m. – 6:00 p.m.
Since its humble beginnings in 1974, the Milford Oyster Festival has become the coup des gras of events in town. This summer will mark their 42nd year of dishing up oysters, rain or shine. The day kicks off with a canoe and kayak race to Charles Island and back. Hundreds of craft vendors will line the Green, classic cars will park at the Lisman Landing, and thousands of attendees will enjoy a spin on classic carnival rides. The Main Stage offers up some local talent as well as a nationally renowned headliner. Over a dozen varieties of 30,000 oysters consumed during this one day are available fresh off the boats. One of the largest Milford non-profit fundraisers, the Oyster Festival annually raises more than $150,000 each year for some 70 local civic and non-profit organizations.
Engine 260 Fire Muster
Saturday, September, 10, 10:00 a.m. – 5:00 p.m.
www.engine260.org
The 45th annual Fire Muster is a fun fall event for the whole family. Drawing fire departments from all over the state and beyond it is a great way to learn about the people who keep us safe throughout the year. It's one of the oldest and largest fire musters in New England, beginning with a parade of fire apparatus through town on their way to Eisenhower Park. Antique trucks, spicy chili, and cold beer make for a fun afternoon watching teams compete in a variety of events. Vendors offer nifty fire-related items. The event is sponsored by Engine 260 and donates all proceeds to the Milford Recreation Department's Camp Happiness benefitting children with special needs.
Milford Irish Festival
Friday, September 16, 6:00 p.m. – 11:00 p.m.
Saturday, September 17, 11:00 am – 11:00 p.m.
In what has become an anticipated annual event, the Milford Irish Heritage Society has provided a bit of the Irish to everyone in Milford one weekend in September. Great Irish music, dancing, children's activities, and food! Remember, corned beef and cabbage isn't only for St. Patrick's Day. Plenty of Irish themed vendors sell all things Claddagh at Fowler Field.
MAC Fest
Saturday, September 17, 10:00 a.m. – 4:00 p.m.
The "Be a Part of Art" tagline of the Milford Arts Council comes to fruition with this dynamic arts festival. Live music, dance, and movement encourage festival goers to participate in this "arts engagement festival." Become part of a drum circle, a paint-in, do a bit of yoga, or learn the Tango. Local groups and non-profit organizations get in on the fun by sponsoring activities like the Milford Public Library's green screen photo booth and Milford Education Foundation's giant lawn chess. This year Pantochino Productions will have a pop-up theater to enjoy. Great local foods will include sweet treats from the Walnut Beach Creamery and B.R.Y.A.C. lobster rolls.
Oktoberfest
Saturday, September 24, 12:00p.m. – 9:00 p.m.
www.devonrotary.org
Hike up your lederhosen and lace up your dirndl, Oktoberfest will have you hopping about polka-ing the night away with toe-tapping tunes from the Bavarian Club of Meriden. Fowler Field will become a small piece of Germany for the day, so save your calories for brats, knockwurst, and sauerkraut. The Biergarten will be serving 20 different brews from local brewers and classics like Spatan. Raffles, souvenirs, and games will be available throughout the day for the Devon Rotary's biggest fundraiser of the year.
Pumpkins on the Pier
Saturday, October 8th
The perfect fall fair, Pumpkins on the Pier offers a pumpkin patch right at Walnut Beach. A fun-filled event for the whole family, this year marks the 6th annual event and benefits the Boys & Girls Club of Milford. If you're interested in flaunting your carving skills you can be a part of the exhibit on the pier. As the sun sets the pier is illuminated and the fancifully carved pumpkins reflect on the waves.