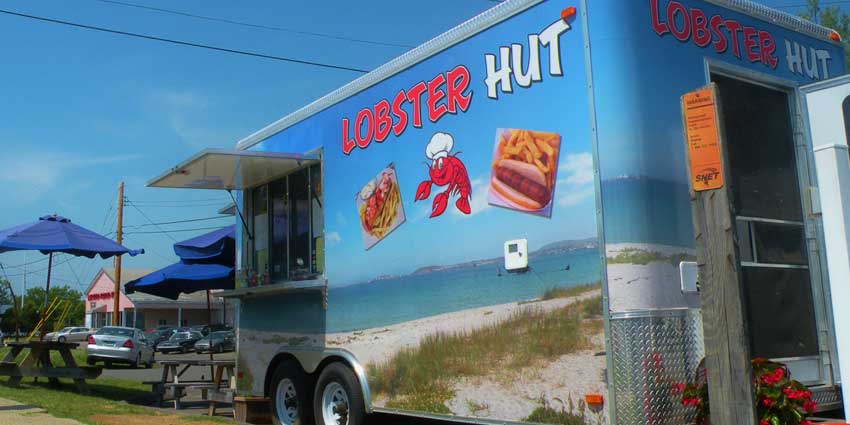 As summer is in full swing, the sight of food trucks will become a regular occurrence around town. Some food trucks, depending on the food they sell, stay out in all seasons, while other trucks come out especially for the summer months when warm weather activities has us on the go.
A few favorite restaurants such as Silver Sands Pizza and Walnut Beach Creamery have food trucks that take advantage of the summer for the upswing in customers. The food trucks visit different farmers markets in town and sell a variety of their flavorful offerings while people shop at the market.
"Depending on location, the customers at farmer markets prefer locally sourced fresh fruit ice cream, at the beach people tend to like tasting general flavors, cookies and cream and chocolate chip cookie dough are always a hit," owner of Walnut Beach Creamery, Susan Patrick, said "some just also want to taste what's new." Patrick decided to take her ice cream on the road to help broaden her customer base, and now the Walnut Beach Creamery truck can be spotted at selected fairs and festivals throughout Connecticut.
Another restaurant, Silver Sands Pizza, located on the Boston Post Road serves up its slices on the go with the Silver Sands Pizza Truck. Catering parties during the summertime and highlighted city events are where a fresh, hot oven made slice can be had.
Thick or thin crust, their pizza is made in a wood-burning pizza oven, which gives the pizza that tasty flavorful unique flavor patron's love."
Joey C's Roadhouse, another local restaurant here in Milford, has jumped on the food truck bandwagon and its Tex-Mex flavors are delighting people on the go. Joey C's food truck offers a small variety of what they sell in their restaurant, customer favorites like their tacos and burritos, and barbeque items including pulled pork and ribs.
Joey C's food truck specialized in catering for parties and tends to keep its wheels around the Milford area for local events.
A real local favorite, the Lobster Hut, can be found open most every day when the weather is fair, across the street from Stop and Shop on Bridgeport Avenue. Their most popular dish is the lobster roll, packed with buttery lobster pieces and served with fresh cold slaw. It's a taste that keeps patrons coming back time and time again.
Fired Up Pizza Truck is a food truck that will be well remembered after the party is over. With their signature pizzas and the dessert pizzas you cannot go wrong. This food truck is specific to parties and special events. Their pizza is thin crust with a variety of toppings that will satisfy any pizza aficionado. To top it off they serve up sweet dessert pizzas that come in flavors like Nutella, cannoli, or Cinnabon.
Looking for a flavorful twist on typical food trucks? Enter the latest food truck on the scene; All Good Food is giving Milford a Jamaican feel with their fare. Offering traditional style Jamaican food and offer a new dining experience for those who have never tried this type of cuisine right in town. They sell wraps and sandwiches as well as an assortment of seafood dishes that are sure to please anyone. All Good Food also has many Jamaican traditional dishes that include chicken and seafood, as well as vegetarian plates. The prices for these meals are great for those who want to try Jamaican food without having to actually travel to Jamaica.
For those who love Italian food, Mama Dee's Italian Kitchen will be sure to satisfy. They have a variety of different on the go Italian dishes with a home-style flair, offering meatball grinders, mozzarella sticks, and an arrangement of different Italian subs for those who want a good meal, and they travel around Connecticut to deliver and create these dishes.
Latin American cuisine has arrived in Milford's most recent food truck, Guantanamera, which sells traditional Cuban cuisine for a moderate a great deal for any meal. A popular side dish is the deep fried banana slices that taste great paired with any dish. Located across the street from Stop and Shop on Bridgeport Avenue Guantanamera is perfect for a quick stop or a sit down meal for anyone interested in a good Cuban meal.
Ruff's Pizza Food Truck serves fresh pizza to whoever is in the mood for something satisfying. Not only do they travel around Connecticut to events and parties, but also depending on the day, Ruff's Pizza can be found at popular beach spots serving up some fresh hot slices that will have you coming back to the beach again for some sun, surf, and slices.
With summer in full bloom, food trucks around Milford will be a regular sight and smell for us to taste and see.