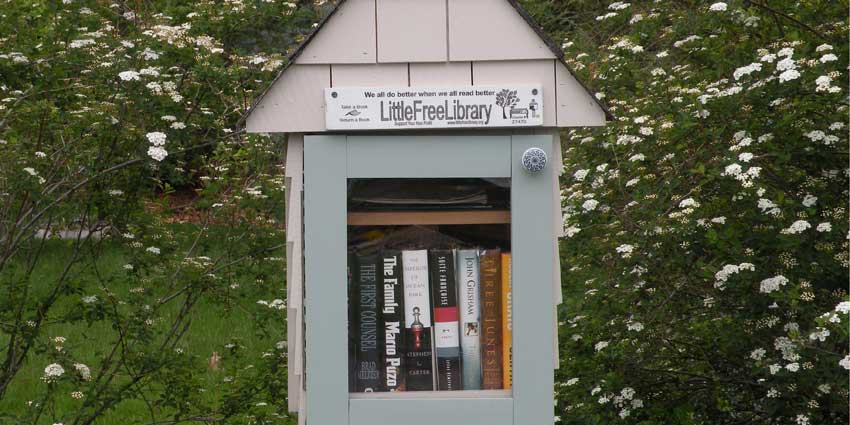 Have any stories you want to share or discover? Little libraries, also known as community book exchanges, are unique boxes where neighbors share and donate their favorite literature for free and are available 24 hours every day. .The national organization started in 2009 in Hudson, Wisconsin, by Todd Bol as a nonprofit organization supporting the provision of free books housed in tiny receptacles in local communities. Bol built a model of a one-room schoolhouse as a tribute to his mother who was a schoolteacher, which he stocked with books and displayed on a post on his front lawn.
Bol paired up with community development expert Rick Brooks to construct more of these wooden installations. By the summer of 2010, the proposed name "Habitat for the Humanities" was a mere memory as these niche boxes became known as Free Little Libraries. The entrepreneurial duo knew they would have to find a personal craftsman – and fast! Soon enough they discovered Wisconsin Amish carpenter Henry Miller who used the wood of his destroyed barn to turn this idea into a reality. Currently, there are two official Free Little Libraries in Milford: one on the corner of East Broadway and Surf Ave and the other at 186 Housatonic Drive in Rivercliff. To this day there are an estimated 36,000 Free Little Libraries worldwide. Donations are accepted and contributions are made to children and adult programs all over the United States.
But these aren't the only little libraries in town! A nonprofit volunteer organization, Friends of The Milford Library (FOML), helped urge relations between the Milford Library and the Milford community with their small book boxes. The idea was brought up by resident Lisa Thornell-Gargiulo who now chairs the Little Libraries committee. One day during a walk around her neighborhood, she wondered why there was not a place in her community where she can easily find reading material. Milford Librarian, Christine Angeli, and Parks and Recreation Director Paul Piscitelli, along with the Milford Department of Public Works, worked with FOML to bring the project to life.
So far there are three (FOML) little libraries located around Milford which can be found at, the Firehouse Art Gallery, the Milford YMCA, and at Gulf Beach.
Other proposed locations throughout town are being pursued for placement. Each of the different little libraries have been constructed by an interested Little Library Committee member, stewards are responsible for overseeing them and checking the stock of the books. These little libraries are reading opportunities that are joined by the Books for Commuters collection FOML maintains in the waiting room at the Milford Train Station.
Everyone is encouraged to donate gently used books. "I have used the Free Little Library on Housatonic Drive – it is fun to take a walk over and sift through the cabinet to see what new finds are there and swap with something delightful you just read," said Milford Living publisher Suzanne Cahill. And, Milford Living(ital) has an independent little library in front of its office at 162 Bridgeport Avenue. It's a great resource for folks to take and lend some literary gems by local authors. There are back issues of Milford Living included too."
Some other local areas to visit are in West Haven at 532 2nd Avenue and at 15 Laurel Street, in New Haven at 184 Hemlock Road. Visit as many as you can or even create your own to support the cause and share the books you love with your community. It takes four easy steps to start your own little library. First, identify a location and talk to a library steward. After that start the sketching and building of your little library. Then get it registered for an official charter sign and number. Lastly, build support by telling friends and neighbors to get your community involved. Little Libraries are fun for children and adults who are looking to explore new literature and share the treasure of reading.