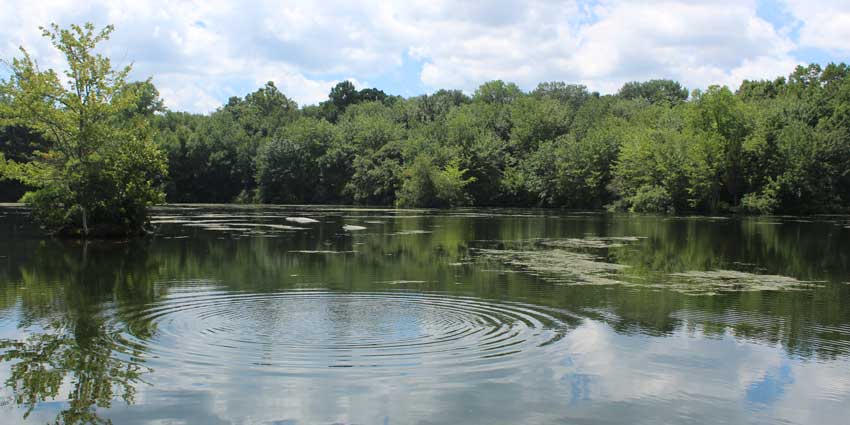 What's in a name? In Milford, the answer is…(ital)plenty. Every street, highway, byway, park, bridge, waterway, and more is named for a significant someone who made his or her mark on the history of our city or state. The following list is just a small sample of these named places.
Merritt Parkway
Construction of this Connecticut public works project cost $21 million, employed over 2,000 workers, and took six years to complete. In 1940, it was dedicated in honor of Schuyler Merritt (R), a member of the United States House of Representatives from Connecticut's 4th congressional district (1917-1931; 1933-1937). The debut issue of The Stamford Historian (March 1954), praised the Congressman, saying, "Men may come and men may go, but likely no Stamford citizen, past, present or future will ever surpass the myriad facets which scintillate[sic] in the life story of the late congressman, lawyer, industrialist, banker, an outstanding Christian, civic leader, and enthusiastic chairman of the commission of the Merritt Parkway—named in his honor."
Wilbur Cross Parkway
How many Connecticut drivers realize that this eastward extension of the Merritt is named for our state's 71 st Governor, Wilbur Lucius Cross (1862-1948)?
Previous to serving four terms (1931-1939), this Democrat was a Yale professor, the first dean of Yale's graduate school, a principal of Staples High School in Westport and a well-known critic of English literature.
The preliminary section of Wilbur Cross Parkway opened on December 24, 1941, but due to WWII construction restrictions, the section between Wallingford and Meriden didn't open until 1949. Well-known for its ban on commercial vehicles, the far-from-popular green, log-cabin style Route 15 toll booth plazas were decommissioned in 1988.
Robert Treat Parkway
The Robert Treat Parkway runs north/south from the intersection of CT162 (at the Bridgeport Ave. Mobil station) to the intersection of Underhill and Surf Avenues.
Robert Treat (1622–1710) was one of the Milford colony's original founders.
After settling here in 1639, Treat became a leader of the New Haven Colony. He served as deputy governor of Connecticut from 1678-1683, governor from 1683 to 1698, and deputy governor (again) from 1698-1708. A 19 th century New Haven Historical Society archive hails Treat as a "founder, farmer, soldier, statesman, governor."
Stowe Avenue
At the top of this road near Walnut Beach, stands a 19 th century barn; once part of dairy farm owned by the Stowe family. Milford City Historian Arthur Stowe believes that all descendents of his personal Stowe/Stow family tree trace back to Captain Stephen Stow, Milford's Revolutionary War hero, who gave his life while nursing 200 smallpox-stricken American soldiers. "Cornelius and Sarah Stowe owned the Stowe farm and had three daughters," he explains. "Norma, Sally, and Joan sold the farm and the city later acquired it. There have been plans for the property but for now, it remains as is with a lovely green patch close to the beach."
Buckingham Avenue
According to former city historian Richard Platt, "The house at 215 Buckingham Avenue, built c.1790, is known as the Samuel Buckingham House. This is on the section of Buckingham Avenue between Gulf Street and New Haven Avenue which parallels the railroad. It's likely that the Buckingham family had property there." Captain Samuel Buckingham (1640-1699) was the second son of Thomas Buckingham, one of Milford's original settlers.
Clark Street
It's about 900 feet from Milford Hospital to the intersection of Bridgeport Avenue and Clark Street. Back in 1659, a deacon, carpenter, free-planter, and early Milford settler named George Clark (1615-1690), constructed a dwelling in close proximity to this location. Significantly, this was the first house to be built outside the stockade fence that protected the colonists from attacks by Native Americans.
The Clark-Stockade House was dismantled around 1780 and was moved to its present location (Milford Historical Society Wharf Lane complex) in 1974.
Hotchkiss Bridge
The much-photographed Hotchkiss Bridge connects Fowler Field to Factory Lane.
It was dedicated in August of 1998 in memory of Albert Knox Hotchkiss, a lifelong Milford resident and marine engineer who was devoted to restoring the docks in Milford Harbor until the age of 92. It's commonly held that Hotchkiss Bridge is, as the website harborsofthesound.tripod.com, affirms, "the site where early settlers landed their tools, utensils, and building materials for the common house in August of 1639. The area on the other side of this bridge was once part of the harbor until the Hurricane of 1938." The silt deposited in the harbor from the storm was dredged and used to create Wilcox Park.
Wilcox Park
Wilcox Park is a wooded and grass area of about 12-acres situated on a bluff overlooking Milford Harbor. This land, which features an extensive trail system, is part of the original land grant to William Fowler, Milford's first miller. This land was owned by the Fowler family until purchased by Clark Wilcox in 1908. Mr. Wilcox deeded this land to Milford in 1909 as a public park.
Eisenhower Park
According to Milford assistant city clerk Bonnie Peloso, "In the minutes of the February 2, 1970 Board of Alderman meeting, Alderman Douglass MacQuarrie read the resolution as follows: 'Whereas Dwight David Eisenhower devoted his life to the service of his country as leader of our nation's military forces during World War II and as president of the United States; be it resolved that to honor this great American, the Board of Aldermen of the City of Milford designates the former Asgrow property, also known as Camp Clark, as Dwight David Eisenhower Park." Milford's largest park property features 333-acres of walking trails, tennis courts, a dog run, a pond, a picnic area, and a playground. The resolution passed unanimously and the official dedication ceremony occurred in June 1975.
Lisman Landing
On September 27, 2003, this 35-slip marina was named to honor the memory of former Mayor Fred Lisman (R), who served in office for 12 years (1989–2001). Lisman had previously served on Milford's Board of Alderman for 14 years. During his mayoral tenure, Lisman established The Inland Wetlands Agency (1988), which provides protection, preservation, and maintenance of the city's wetlands and watercourses. Fittingly, Lisman Landing has become a hub for many firework displays, races, concerts, and harbor side festivities.
Charles E. Wheeler Management Wildlife Area
Encompassing coastal marshes, beautiful vistas, and habitats for many species of birds, this 840-acre site was formerly known as Nells Island. The State Department of Environmental Protection purchased in 1953, naming it for Charles E. "Shang" Wheeler (1872-1912), widely considered to be one of the greatest master decoy carvers of all time. Wheeler was a longtime Stratford resident who discovered decoy carving as a young adult and quickly apprenticed himself to the Stratford School of decoy carvers.
Charles Island
A 14-acre island in Long Island Sound, Charles Island is accessible from shore via a tombolo (or sandbar) during low tide. Originally settled by the Sachem Ansantawae and discovered by the Dutch navigator Adriane Block in 1614, it was settled by the English in 1639. After Charles Deal bought the island in 1657 and subsequently failed to raise tobacco there, it became known as Charles Island. Many legends surround the island, including that Captain William Kidd's treasure was reputedly buried there in 1699 and is still waiting to be uncovered.
The Margaret Egan Center
This recreation department facility located in the old Lenox Avenue School at 25 Matthews Street is named after the former longtime Milford city clerk, Margaret Egan. In 1979, Connecticut's General Assembly/ House of Representatives adopted a resolution citing Egan's years of outstanding civil service. Smith's Point (or Smith Point?) Although little is known of the exact namesake of this picturesque eastern beachhead, it is most likely linked to family members of John Smith, who sailed here from England in 1640. In The Connecticut Granges: An Historical Account of the Rise and Growth of the Patrons of Husbandry (published in 1900), many Milford Smiths are mentioned, including Nathan Edwin Smith, who belonged to the Indian River Grange, and a Charles E. Smith, a "Master" of the grange who owned a sizeable "ancestral homestead" in the area.
Mondo Ponds
The area is named for Rocco Mondo, who owned Rocco Mondo and Sons Excavating. During the 1940s, Mondo created the ponds with the help of his son Joseph, by digging through gravel. This process took nearly two decades.
This past July, officials from Subway World Headquarters and the City of Milford gathered to rededicate this restored nature preserve. Mondo Ponds is comprised of 35.6 acres and five ponds. It has been owned by the city since 1986, when it was purchased from the South Central Connecticut Regional Water Authority.
Walker Pond
Located on the corner of Meadowside Road and Robert Treat Parkway, this small neighborhood pond is named for Reverend Charles Walker, a pastor of Milford's First Baptist Church, who grew his congregation from 28 members in 1961 to nearly 100 by the time of his retirement in 1980.
Born in 1903 in Triboro, North Carolina, Walker is widely recognized as a civic and spiritual leader who initiated a successful state-wide effort in 1976 to commemorate Connecticut's African American participants during the Revolutionary War.
Wasson Field
The former Milford High School baseball field was dedicated to Police Officer Daniel Scott Wasson on May 17, 1987. Officer Wasson, who was shot and killed on April 12, 1987 while making a traffic stop for an expired registration, was also a U.S. Air Force veteran and K-9 handler. Wasson's badge number 60 was retired and his locker remains empty. He is buried in Milford's Kings Highway Cemetery.