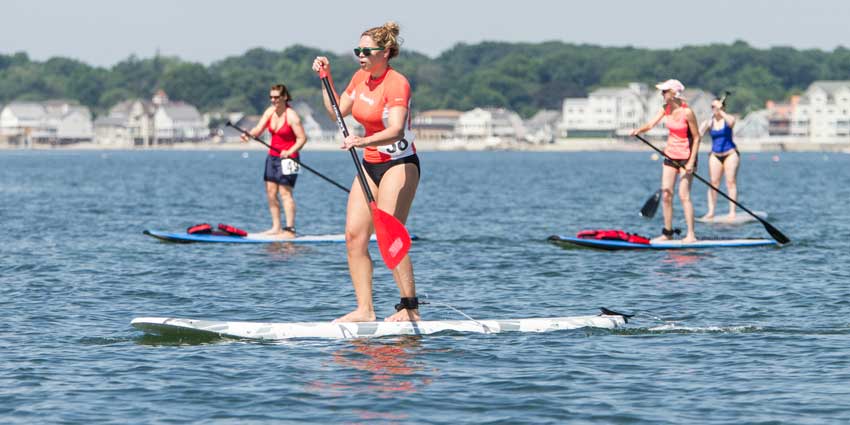 Milford is known as "a small city with a big heart." Two years ago Milford doubled down on this idea when the Board of Aldermen approved a "Charter of Compassion," calling upon all city residents to use that big heart to promote and inspire compassion as a way of life. That endeavor is seen in many ways throughout our city, but perhaps nowhere is it as evident as in the numerous charity races hosted here during the spring, summer, and autumn months when a variety of physical fitness events make use of Milford's unique and lengthy shoreline to protect this valuable natural resource, to promote health and fitness in our city, and to support many important local organizations that form the backbone of Milford's compassion.
In June….
On June 19 (Father's Day), is the relatively new, second annual "Charles Island Sup Cup" race, co-sponsored by Scoot and Paddle of Milford (a shop in Walnut Beach that rents paddle boards, kayaks, and other water craft) and Surfrider CT (a grass roots environmental organization whose aim it is to protect waterways and open spaces near beaches). According to Tina Pritchard of Scoot and Paddle, the goal of the event is, "to develop a community and camaraderie in the sport of stand up paddle boarding and to raise awareness of the need to care for our coastline." However, the Charles Island Sup Cup is much more than just a race; it is a "fun filled community family event bringing the paddling community together as well as providing a great day at the beach for locals and visitors to the area." In addition to a five mile elite race, a two-and-a-quarter mile recreational race, and a half-mile youth race – all of which are open to paddle boards, kayaks, outrigger canoes, and surf skis – the day also features surfer bands, a DJ, interactive demonstrations by the Kaiholunuie Polynesian Dance Company, a demonstration by the Manu'iwa Outriggers and Canoe Club, a yoga and wellness tent, a children's craft tent, food trucks, and more. The registration fee is $45 for elite racers, $30 for recreational racers, and $10 for youth racers, and all the proceeds from this event will be donated to small, local charities, including the Milford Environmental Protection Initiative, which provides modest environmental grants to local people and organizations.
In July….
A relatively new event in town, and returning on July 9 for the third year, is the Literacy Volunteers of Southern Connecticut's (LVSCT) Neon Night Run 5K. With a $35 registration fee and proceeds to benefit the LVSCT, this unique event begins in downtown Milford at dusk and features glow sticks and an after-party at Stonebridge Restaurant.
The third annual Charles Island Y-Tri, being held this year on July 31, is another of Milford's premier fitness/race events. Hosted by the Woodruff Family YMCA, this Sprint Triathlon includes a half mile ocean swim, a twelve mile bike ride, and a three mile run along the coast, starting and ending at Walnut Beach. Alisha Williams, Health and Wellness Director at the Woodruff Family YMCA, cited the Y's mission for "youth development, social responsibility, and healthy living" as some of the motivation for hosting the event, and said that all of the proceeds from the $70 registration fees will go to benefit the YMCA's annual giving campaign. The campaign provides money for scholarships for those needing financial assistance to offset the cost of pre-school, before-school and after-school YMCA programs, once again providing evidence of Milford's compassion and big-heartedness.
In August…
Later in the summer, on August 7, the eleventh Annual Walnut Beach Ice Cream Run 5K (registration $20) will be held as part of the Walnut Beach Festival. Megan Altomare, Executive Director of the Boys and Girls Club of Milford, said that the goal of this race is, "to offer a healthy community event and, of course, to raise funds for the BGCM operating budget." According to their website, the Boys and Girls Club of Milford, "provides a safe, structured and positive environment for young people after school, during holidays and summer vacation." Hosted by a number of local sponsors, the race includes a free run for children underage twelve and free ice cream from the Walnut Beach Creamery for all participants! Later in the month will be the Milford Oyster Festival Canoe and Kayak Race on August 20, a much loved feature of the well-known annual Milford Oyster Festival.
In September….
September looks to be a busy month for runners and racers in Milford this year. On September 17 the Shoreline Sharks will be hosting the sixth Annual Gulf Beach Half Marathon, and on September 18 Bridges of Milford will sponsor Folks on Spokes and Folks on Foot. Bridges of Milford provides mental health and addiction services to many area residents who otherwise might not have access to these from private providers. The bicycle race, which was originally started by several Bridges board members, is open to cyclists of all levels, with several mapped routes of twenty, forty, fifty, and sixty-six miles, as well as a five or ten mile Family Fun Ride. Runners can take part in an official 5K, and there is a one mile Kids Fun Run as well. Other folks on foot who want to be more leisurely often walk the scenic seaside route. The original goal of Folks on Spokes/Foot was to raise awareness of and fight the stigma connected to issues of mental health and addiction. Now in its twenty-fourth year, it has grown to be the agency's primary fundraiser, adding between twenty-five- and thirty-thousand dollars annually to Bridges of Milford. According to Marcy Hotchkiss, Bridges Director of Development and Communications, Folks on Spokes/Foot, "is a great show of camaraderie and Milford spirit. It attracts people from all over the region, and we appreciate all the businesses that provide sponsorship, as well as all the participants in the event."
Year round….
These are just a handful of the many community events held each year in Milford that combine health and fitness with charitable giving; and whether one likes to run, bike, kayak, paddle, swim, canoe, or walk, participation offers many benefits. It enables us to develop and practice health and fitness, and to raise awareness of our environment and show support for protecting and sustaining it. Equally important is the opportunity such participation provides us to join the ranks of those who want to serve and support Milford's mission to be a community of compassion and to thrive as a small city with a big heart – all while having a great time!
More information and registration details about any of the events listed above can be found at the following websites:
Neon Night Run 5K: www.lvsct.org
Charles Island Sup Cup: http://scootandpaddle.com/
Woodruff Family YMCA Y-Tri – https://runsignup.com/Race/CT/Milford/CharlesIslandTriathlon
Walnut Beach Ice Cream 5K – http://www.walnutbeachassociation.com/5krace.html
Gulf Beach Half Marathon: http://www.halfmarathons.net/connecticut-gulf-beach-half-marathon/
Folks on Spokes/Folks on Foot: http://www.bridgesmilford.org/website/publish/newsroom/index.php?6
Milford Oyster Festival Canoe and Kayak Race: http://www.milfordoysterfestival.org/images/pdfs/CanoeKayakRace%20Application%20form%202016.pdf