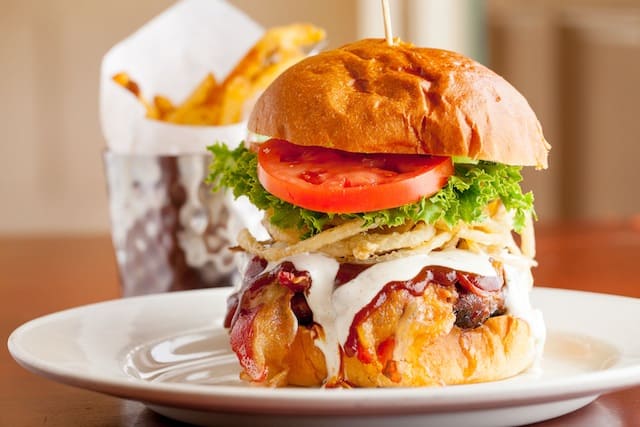 There is a plaque on West River Street in front of the Parson's Complex that commemorates a great moment in Milford's history; when the father of our country, George Washington, stopped in Milford for breakfast. The plaque reads, "George Washington was entertained here at 'Ye Old Clark tavern' November 1789." We know Washington stopped in Milford because he kept a diary throughout his 1789 Presidential tour of New England.
On Saturday, October 17, 1789 while on his way to New Haven, Washington wrote, "In this place there is but one Church, or in other words but one steeple—but there are Grist & saw Mills and a handsome Cascade over the Tumbling dam…" It was on his return trip on November 11th that he made his famous stop. His diary only mentions that he stopped for breakfast, but local history states that upon arriving at Clark's tavern, Washington ordered bread and milk. When the serving girl brought the food, Washington noticed that the pewter spoon was broken, and asked if the tavern had any silver spoons, but they did not. Washington then gave the serving girl two shillings to find a silver spoon, which she did, next door at the home of Reverend William Lockwood.
From Washington's time to our own, the tavern has been the respite for road weary travelers, the tired, the hungry, and the thirsty. Like George Washington before me, I too traveled the roads to Milford looking for some food and rest. Also like Mr. Washington, I found myself visiting its taverns. And just like our first President, I kept a diary of my experiences.
As I headed east along the Boston Post Road through the Village of Devon, I grew weary. Looking for libation and sustenance I happened upon an establishment known as the Liberty Rock Tavern. The Liberty Rock Tavern was named after a large rock in Devon that was used as a lookout post for patriots during the Revolutionary War. Having such a patriotic name, I decided to enter.
I sat down at the brand new-looking wooden bar and not seeing bread and milk on the menu asked the bartender, Michelle, what else she would suggest. She recommended I try their award-winning southern fried chicken sandwich. The Liberty rock was a winner of Best Pub grub of 2017 in Connecticut Magazine. The bar's atmosphere was convivial with much lighthearted banter betwixt the barmaids and customers.
I spoke with Mike Scappatura who has worked the bar there for 10 years since it was the previous bar, the King's Court. "It's a lot different from the old place. The new owners just renovated it about a 16 months ago. We have a great chef; he makes his own sauces, and the menu changes from week to week," Scappatura says. The good word is spreading. "The old bar used to be more regulars from around here but now we're getting a diverse crowd; it's not just locals," he continues. "People hear about the food and are coming to check it out." With Tuesday trivia and an atmosphere that is friendly and clean, "it's a great place," he finishes. I agree. I finished my delicious sandwich, bid fare thee well, and was back on the road.
The night was very cold and windy as I walked into Eli's Tavern on Daniel Street. I took my seat at the beautiful copper and aluminum horseshoe shaped bar and was quickly offered drink and food menus by my bartender Peter. Eli's Tavern may look somewhat old timey with its exposed brick, copper, and wooden accents, but it is a modern gastro pub offering a wide ranging and diverse menu from chorizo tacos and prosciutto and fig flatbreads to more traditional burgers and sandwiches.
Being cold, I ordered the Harpoon Winter Warmer ale and a bowl of New England clam chowder. I was happily surprised when my chowder arrived with not one, but two bags of oyster crackers (it's the little things.) I quickly devoured the delicious soup, and, no longer feeling a chill, I enjoyed my winter warmer. I soaked up a little atmosphere before setting forth back on the road, "for I had promises to keep, and miles to go before I sleep."
On that tour in 1789, George Washington made it a point to stay almost exclusively in taverns to show that he was not to be pampered like a king and that he was one of the people. He chose to eat, sleep, warm up, and enjoy camaraderie in taverns, and just like today, some were good, some better, and some had broken spoons. While Clark's Tavern was demolished in 1949, Milford's taverns are keeping up the noble tradition of giving travelers food to eat, ale to drink and a cozy seat at a friendly bar to rest their weary bones.
-Gerry McGuire