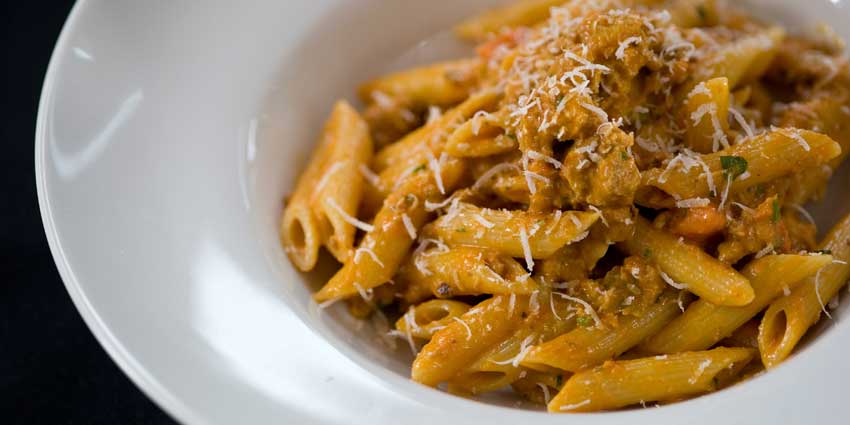 Chase the winter chill with these favorite recipes from local residents
The winter chill has descended upon us and Milfordites hunker down in their woolies and snuggies. One way to fight off Jack Frost is to warm your home by creating a hearty meal. Cooking with, or for family and friends is a great way enjoy the season with flavor and flair. We hope you enjoy these recipes from some of our friends around town. Delicious and delectable this varied fare will warm your tummy and tantalize your taste buds.
Milford Mayor Ben Blake loves the Oyster Festival. You may not have 100 people stopping in at your home but any recipe can be adjusted for a smaller batch. This delicious clam chowder is a sure fire hit, enjoyed by thousands every second Saturday in August.
Milford Oyster Festival Clam Chowder for 100
5 lbs. potatoes, peeled and diced
3 lbs. onions, chopped
1 bunch celery, chopped
1-1½ bushels clams
1 lb. butter
½ c. flour
Broth
Seasoning: thyme, sage, pepper, parsley, bay leaves
Whole milk
In a large pot, steam clams in 1-2 inches of water until just open. Reserve broth; shuck clams and chop or grind. Melt butter in another large pot. Sauté onions and celery. When vegetables are soft, add chopped clams, flour, and seasonings. Stir well, then add broth, making sure there is at least 1½ gallons (or add some water.) Add chopped potatoes and simmer until potatoes are soft, at least 1 hour. When ready to serve, add whole milk at ratio of about 1:3 or 1:4 milk to chowder. Do not boil, just heat through and serve.
Note from the Mayor, "I "decant" batches of chowder without milk into a warming pot, add milk, heat, and serve. Leftover chowder without milk lasts longer in the refrigerator and can be frozen."
Nell Moll & Dory Neilson (cook up a storm year round, but this dish is a favorite of theirs during the winter months. This tasty slow cook recipe is sure to stave off old man winters chill and add some spice to any gathering.
Pork Milford
1 lb. ground pork
2 lbs. pork shoulder pieces with bone in (about 2-inch pieces)
3 cups sweet chopped Vidalia onion
2 cut up small carrots
1 cup chopped green bell pepper
3 garlic cloves, minced
1 lager-style beer
3 Tbsp. chili powder
1 Tbsp. ground cumin
2 tsp. dried oregano
3/4 tsp. freshly ground black pepper
2 bay leaves
1 (28 oz.) cans Pastene tomatoes crushed
1 (15 oz.) can pinto beans drained
1 (15 oz.) can small white beans drained
1/2 cup finely chopped cilantro
1/2 cup finely chopped green onions
Crumble and brown ground pork in skillet (first sprinkle with a little baking soda to aid browning). Sauté with olive oil and garlic. Drain well. Drop pork into the slow cooker. Next, brown the pork shoulder pieces (again, sprinkle with baking soda to aid browning) with olive oil and garlic bone in until lightly browned about 5 minutes then drop into slow cooker. In the same skillet add onion and peppers and sauté to soft, stirring frequently. Add garlic; sauté 1 minute. Cook 1 minute, stirring constantly. Stir in beer; cook 1 minute. Transfer onion mixture to slow cooker. Add chili powder and other ingredients. Cover and cook on high 5 hours or until meat is tender. Remove bones from pork and discard along with the bay leaves. Add fresh cut green onions and chopped cilantro to taste, and your choice of cheese.
Tony Picarazzi, our neighbor and owner of Simply Kitchens, certainly knows his way around a stove. His penchant for cooking has crafted this seafood extravaganza which is as tasty as it is waistline friendly.
Sound Seafood Salad
1 lb. cleaned shrimp
2 Tbsp. fresh lemon juice
1 Tbsp. red wine vinegar
1/3 cup extra virgin olive oil
1 large garlic clove minced
½ tsp. of salt
¼ tsp. black pepper
1 small red onion, halved lengthwise, then thinly cross wise (1 cup)
1/3 cup pitted Kalamata olives, halved lengthwise
2 cups cherry or grape tomatoes, halved or quartered if large
2 stalks celery ¼ inch slices
1 cup loosely packed fresh flat parsley leaves
1 lb. fresh squid
1/2 lb. scallops
1/2 lb. crabmeat
Rinse squid under cold water and lightly pat dry with paper towels. Halve tentacles lengthwise and cut bodies crosswise into 1/3 inch rings. Place squid into salted boiling water for 40 to 60 seconds. Drain in colander and transfer into a bowl of ice water to stop the cooking process. When cool pat dry. Boil shrimp and scallops until cooked and drain. Whisk together lemon juice, vinegar, oil, garlic, salt, and pepper, then add onion and let rest for 5 minutes. Combine seafood, olives tomatoes, celery, and parsley in a bowl. Toss with dressing and salt and pepper to taste. Let stand for at least 15 minutes to allow flavors to develop. Can be enjoyed right away, but chilling the salad covered for eight hours makes it taste even better!
Elena Fusco is the restauranteur behind BIN 100. Her Bolognese sauce draws eager diners from far and wide and she has kindly shared her secret recipe with us here. Try and see if you can match her culinary skill!
Milford's Favorite Bolognese Sauce
3 stalks celery finely chopped
3 carrots peeled and finely chopped
1 yellow onion finely chopped
2 Tbsps. olive oil
½ lb. ground beef
½ lb. ground pork
½ lb. ground veal
½ cup red wine
1 tsp. salt
½ tsp. black pepper
1 Tbsp. chopped fresh parsley
1 bay leaf
32 oz. pureed canned tomatoes
In a 6-8 quart sauce pot over medium heat add two tablespoons of olive oil, onion, celery, and carrot; sauté for 3-4 minutes. Next add the three types of ground meats and raise the temperature to high, stirring the ingredients constantly until the meat has thoroughly browned. Add the wine, salt, pepper, bay leaf, and parsley and reduce the heat to medium. Stir occasionally for 5 minutes. Add the pureed tomato and cook on medium heat for 10 minutes, then reduce to medium low heat and simmer for 1 hour stirring occasionally.
Separately, cook your favorite cut of pasta; we suggest penne pasta or egg tagliatelle. Drain the pasta and return to the pan and add a generous amount of the Bolognese sauce to cover the pasta and a handful of grated parmesan. Toss and serve.
Not only can Mike Lofaro, owner of Berkeley Exteriors, improve the energy efficiency of your home, but can heat it up in the kitchen as well. A devoted fan of the culinary arts, Mike's neighbors were quick to ask for his shrimp and grits recipe once they tasted it. Now he shares it with you.
Rivercliff Shrimp & Grits
Make the grits
1 cup old fashioned grits
2 cups boiling water
2 cups chicken broth
¼ lb. butter
1 tsp. salt
8 oz. shredded smoked Gouda
Grilled Shrimp
2 lbs. raw shrimp peeled & deveined
2 oz. chili powder
Pinch of red pepper flakes
1 oz. freshly ground pepper
2 oz. garlic powder
2 oz. seafood seasoning (Old Bay)
2 oz. onion powder
1 oz. ginger
1 oz. olive oil
1 can (14.75 oz.) Fire roasted corn
Grits: Bring the stock to a boil in a medium pot. Add the grits and whisk constantly until they are fully mixed into the stock (about 2 minutes). Reduce heat to low and cover, stirring occasionally to prevent clumping. After about 5 minutes the grits should be thick and creamy. Slowly stir in the shredded Gouda cheese and season with salt and pepper to taste.
Shrimp: Pat dry with paper towels. Add all seasonings and shrimp to a large Ziploc bag and shake to evenly coat. Heat a large skillet over medium-high heat and add butter. Once it's sizzling, add the shrimp and cook on both sides until pink. The butter will brown as the shrimp cooks. Keeping moving the shrimp around the pan so the butter does not burn. Finally, add the garlic for the final 30 seconds or so. Stir the shrimp to coat with flavor (and not burn the garlic). Drain. Add a can of Fire roasted corn and stir to heat through. Plate the grits in large soup bowls or dishes and ladle the shrimp and corn mixture on top. Serve hot.
Suzanne Cahill, our illustrious publisher loves her crockpot. Always on deadline, the slow cooker makes mealtime easier.
Walnut Beach Bisque
2 cups frozen corn
1 can (14.5 oz.) cream-style corn
2 cups chicken broth
1 large onion, diced
1 stalk celery, diced
1 garlic clove, diced
2 carrots, chopped in rounds
2 tsp. thyme
1/8 tsp. black pepper
1 cup half & half or whole milk
2 cups seafood–crab meat, shrimp, calamari, etc. Whichever you prefer.
In crock pot, combine both corns, chicken broth, garlic, onion, celery, carrot, spices, stir to mix. Cover and cook on low about 6 hours. When ready, remove about half of the chowder from the slow cooker and pulse in the food processor till smooth, return to crockpot.
Add half & half and seafood, turn to high, and cook 10-15 minutes more.