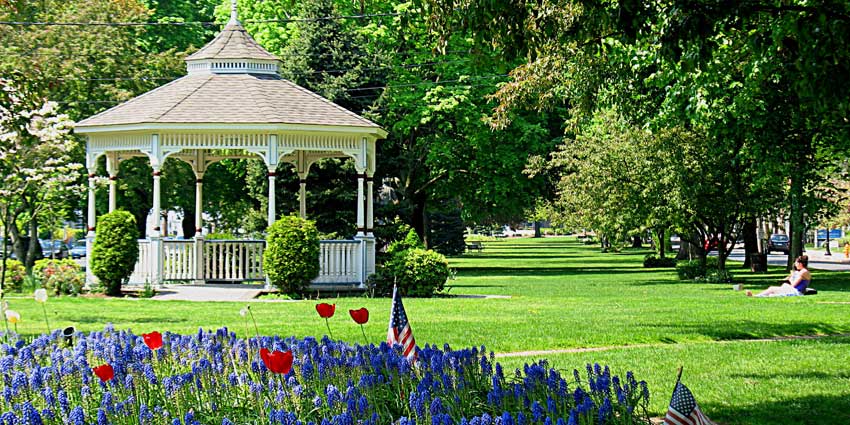 From fishing ponds to farm land
From the Oyster River to the Housatonic up to the Orange border, Milford's neighborhoods are steeped in history and often remain that place known as "home" long after residents depart.
Anchor Beach
A small neighborhood that is actually a sub-section of Woodmont, Anchor Beach garnered much media attention last September when footage of a rare waterspout (a type of nautical mini-tornado) occurred along the shoreline.
This is a "tightly knit community of multi-generational families co-existing with the ebb and flow of summer visitors," says Lesley Mills, owner and director Griswold Special Home Care. "I am privileged to live in one of the Borough's most photographed houses, which is the closest to Signal Rock." From her window, Mills can not only keep an eye on the iconic flagpole to see what way the wind is blowing, but says she is continuously amazed to "view the Rock's beauty that changes by the hour" and "the steady procession of life that passes my garden in all seasons."
Bayview Beach
Situated between Welch's Point and Calf Pen Meadow Creek, Bayview weathered much damage inflicted by Hurricanes Irene and Sandy. Thankfully, federal grant projects are underway to redesign low-lying drainage systems and improve storm preparedness.
When the Bayview's community holds their annual Fourth of July parade, David Culhane's entire family gathers at their circa 1911 family cottage to celebrate. "We were a family of nine brothers and sisters," he recounts. "Great grandchildren still come from London every summer." His childhood memories include, "many summers lifeguarding," "the vegetable truck," and "the Great Hurricane of '55." Culhane's sister Maureen Morris waxes nostalgic about her upbringing. "On hot, hot summer days, no one would use (or now uses) the inside shower," she shares. "My dad would leave work from Waterbury and sleep on our porch. The cottage continues to be a huge meeting place; an important part of our lives."
Cedar Beach
In a 2002 REPORT for the Milford Open Space and Conservation Commission, Bartley C. Block described Cedar Beach as, "The eastern portion of the sand spit" (comprising Milford Point) at the western end of the shoreline. About 3000 feet in extent, 800 feet of Cedar Beach is owned by the state of Connecticut, while the remainder of the narrow beach is privately owned."
"I've been here my whole life," says Chis Saley. In fact, his parents are lifetime residents. "Cedar Beach was once a different world in the summertime…a bustling place. We had The Adams Apple Bar right around 110 Milford Point Rd. There used to be Myers Convenience Store on Seaview Ave. Now, he says, "after raising three kids here in this peninsula-shaped neighborhood of roughly 150 homes," he looks forward to the annual Fourth of July block party. "It's like Christmas in the summer."
Devon
Geographically and historically, the Village Of Devon is the true Gateway to Milford. During the American Revolution, Liberty Rock was used as a lookout point by Minutemen watching for British invaders. More than 200 years later, many thousands of cars make their way across another landmark spanning the same section of the Housatonic River: The Washington (a.k.a. Devon) Bridge.
Once known as Naugatuck Junction, Devon is now recognized for its decades-long revitalization project. The Devon Revitalization Committee successfully administrated close to $5 million in grants that went towards renovating brick sidewalks, lampposts, landscaping, lighting, traffic flow, and signage. This effort injected new verve into village life. "I've been here a long time and watched this area grow," says Marty Hardiman. "What makes Devon unique is the small town atmosphere and that everyone knows everyone. We get involved to help make it nicer for all neighborhood residents. That's the way it should be."
Downtown: The Green
The Downtown Milford Business Association's website touts the benefits of this part of town: "Walk the second longest town Green in Connecticut, alongside the harbor, Lisman Landing, monuments, the Historical Society and historic buildings, the Milford Fine Arts Center, and the tallest flagpole in the State!"
With the harbor, library, Metro-North, shopping, services, and dining within a stone's throw, it's no wonder that homeowners like Kristin Huffman say this section of Milford captures "The best of both worlds. We walk our dog down to Trumbull beach a few times a week, rain, snow, or shine! And it's so easy to walk to the Green for festivals and for catching the train into NYC. When I was on Broadway, it was a safe walk home late at night and an easy commute to the city". Another summertime benefit? "Being close to the Green for the Oyster Festival."
Gulf Beach
This beautiful sandy beach has an access pier for fishing, picnic areas, and restrooms.  Visitors have a view of Charles Island; there are parking lots for residents and non-residents. The Gulf Pond/Gulf Beach walk is popular with hikers and birders, with viewing platforms on both Gulf St. and Buckingham Ave.
When Susan Patrick first moved here 18 years ago, she remembers, "The view really did take my breath away. My oldest child was five and we later raised four children here. We fell in love with the house first; then the neighborhood and community, which is very warm and welcoming." Although the area seems "unchanged … almost caught in time," she's quite pleased with the sidewalk renewal project, spearheaded by the Mayor, which "really opened up the neighborhood." Meanwhile, the view continues to inspire her. "Over the years," she states," the sunsets off Gulf Beach never get old."
Fort Trumbull Beach
Fort Trumbull was built overlooking Milford Harbor in 1716. Subsequently, the site of the fort became home to the Clapp House, a stately mansion which overlooked the Harbor for 170 years. Although that structure was razed, one of cannons that guarded the Fort now sits on the grounds of Milford's Chamber of Commerce.
"As far as I'm concerned, this area offers the best of all worlds because of its proximity to theater, harbor, and downtown,: says longtime Ft. Trumbull resident Nell Moll.
Richard Smith, owner of the 7 Seas Restaurant & Pub, has a family history with Fort Trumbull Beach that goes back to the late 1800s. His ancestors "owned the Willard Hotel," he explains, "and my grandparents also owned Pilgrim Restaurant on Seaside Ave. At one point there was an ice cream parlor and tea room on East Broadway, a gardener's market, and at the end of our street was Houseman's Pharmacy. My current house is next door to the house I grew up in. The neighborhood once attracted mostly New York City area renters; now the community is year-round."
Laurel Beach
Rich Smith is well-versed in Laurel Beach's lore. "Designed by the famous architect Stanford White, it was planned in such a way as to provide water views from every street…and arranged around the center of our neighborhood, 5th Avenue Park. We also enjoy a bricked, ocean-side boardwalk that runs the length of the nine streets."
The Laurel Beach Association was chartered by the state in 1899 and is still going strong. Members are a close-knit group, many of whom—like Smith—possess multigenerational ties to the area. "My grandparents, like many New York families, would come to Laurel Beach to summer," he says. "My parents moved us here in 1960 to live year-round. Many of my current neighbors are people I grew up with who, like me, moved back to Laurel Beach to raise their own families."
While most residents live here throughout the year, Smith points out that the Laurel Beach Community Center—known as The Casino—becomes the hub of social life during summer months.
David J. DuRubeis, managing partner of Cody-White Funeral Service, fell in love with Laurel Beach upon moving here 15 years ago. His favorite spot is the view from his balcony, "overlooking the Wheeler Marsh, with its many species of birds, including Bald Eagles. It's like watching a Natural Geographic special!" (Editor's Note: this view graced the cover Milford Living's 2010 Spring issue.)
 Morningside
Industrialist Henry G. Thompson named his sprawling summer estate "Morningside" due to its enviable location—perched high on a bluff overlooking the Sound facing the rising sun. Although the property was sold in the 1900s, eventually subdivided, and later developed into a year-round community for more than 200 families, today's members of The Morningside Association are quick to tout the benefits of living near an elevated, protected seawall. "When there's flooding elsewhere in Milford we might have a few downed trees, but our high elevation protects us from most storms," says Gary Johnson.
Johnson refers to his neighborhood as, "a combination tale of two cities; a blend of the old and the new." Examples of Victorian Morningside, such as the carriage house and dairy barns, have been repurposed into residences. The previously gated stone entrance pillars (former trolley stops) still flank both entrances, and a recreation area is maintained by the Association.
Naugatuck Gardens
Woods and wetlands coexist here with the sprawling corporate complexes of Bic and Subway. The Mondo Ponds and the Beaver Brook Reservoir was used as part of the public water supply during the 1970s. Nowadays, nature lovers visit the 149 acre Mondo Park Nature Preserve and Education Center, which supplements the science curriculum at the adjacent JFK Elementary School.
Barbara Morin has lived in the same Naugatuck Gardens two-story Colonial on a half-acre lot for 52 years. "I moved here before the school or Subway was built or Bic was in operation," she says. "Those businesses have added a lot more traffic and many homes. Yet, it's safe, convenient, and absolutely was a great place for my three children to grow up in, with the Milford Ice Pavilion up the street and fishing in Mondo Pond. People generally don't move out of this neighborhood. They stay here for life."
Point Beach
Historic documents reveal the Pond Point house of Miles Merwin was plundered by the British in 1776. Fast forward to the 1920s when many new cottages were built along Point Beach Drive. In 2011 and 2012, flooding from Hurricanes Irene and Sandy caused major flooding, prompting residents to raise their homes, reinforce foundations, or rebuild.
"I chose this neighborhood because of the great Long Island Sound view without dooming me to a lifetime of sweeping sand out of our living room," says Tessa Marquis. "Point Beach is an old-fashioned neighborhood, with individual streets as sub-neighborhoods. It is the perfect spot to see all the Milford fireworks at once and every sunrise of the year. People are so friendly that they help take out and put away your garbage cans if you forget or are out of town. We have house parties, beach parties, and the Point Beach Association keeps the Shoreline and Access points clean and safe."
Walnut Beach
Officially dedicated in 2011, the beautiful $1.5 million Boardwalk connecting Walnut Beach to Silver Sands State Park has become one the most popular attractions in the region. Featuring plenty of sand, a fishing pier, handicapped accessible walkways, stone jetties, and large parking lots, there is also plenty of shade and picnic tables at the Devon Rotary Pavilion.
The Pavilion's "Famous Summer Concert Series" and numerous arts events, festivals, parades, and celebrations (including this magazine's Spring Kite Fly) are largely due to the coordinated efforts of the Walnut Beach Association. Members maintain a website and Facebook page and all events are "designed to beautify, enhance, and promote" this revitalized neighborhood.
"I grew up in the Wildermere Beach neighborhood on the OTHER side," states Brian Smith, referring to the next beach over. "My family owned a grocery store, Smith Brothers Market." Currently, Smith acts as DJ at the Thursday night summer parties on Broadway and Naugatuck Avenue. "I wonder how many realize they are dancing where the floor of the old Pier III Pub used to be?" he muses. "Every square foot of the neighborhood has a history as rich as any spot on the Jersey Shore…hotels and hot dog stands and gin joints and candy stores.. now coming back as an artsy neighborhood with pizza and ice cream, surf boards, and the beach itself—just waiting for the next new generation to discover it again."
 Wheelers Farms
When Joseph Wheeler settled the area north of the Post Road in 1705, like other early Milford settlers, he came specifically to farm the land. "This was all farm country at one time," says Anthony Allen of Filanowski & Sons. "My father-in-law, Mark Filanowki's parents, came from Poland in the late 1800s, met, married, and started the farm. Mark later acquired the farm, built the greenhouse, and expanded the business."
Up until the 1950s, agriculture was the predominant livelihood in the neighborhood. Now, Filanowksi's is "one of the last remaining farms." The area stretches to the Orange border and includes Glendale Farms, which does a thriving business in annuals, vegetables, ground covers, and seasonal ornaments, and Spring Meadows Horse Farm which offers boarding, training, lessons, day camp, therapeutic riding, and leasing programs. The main campus of Boys & Girls Village, founded in1942, is also located on Wheelers Farms Rd.
Woodmont
Woodmont was incorporated as a borough of Milford in 1903. A trolley once provided direct service to and from New Haven. This helped foster this area's popularity as a bustling beach resort for residents of New Haven, Bridgeport, and beyond.
Katie Murphy leads area walking tours with Michael Krauss that are based upon her 2007 book, Woodmont On the Sound. "From the 1880s until World War II, it was a popular summer vacation spot with many large, fashionable hotels and inns," she says. "Well-known mayors, governors, prominent businessmen, newspaper publishers, and others flocked to Woodmont, including Albert Einstein who stayed at the Woodmont Lodge." Theatre magnate Sylvester Poli hosted many famous actors and actresses in his Italianate Villa Rosa Poli Mansion. Other sights and landmarks include Anchor and Crescent beaches, Merwin's Point, Signal and Potato Rocks, the Umbrella Tree, Robert Treat Farm, and Scribners Restaurant, located in the former Peterson's Market and Clark-Hall hardware store.
"Although most of the summer beach cottages are now gone, or changed so much that you wouldn't recognize them," says Woodmonter Ardienne Damicis, she's ceaselessly enthusiastic about the simple pleasures, including "Woodmont Day, swimming, and the ever-beautiful beach."