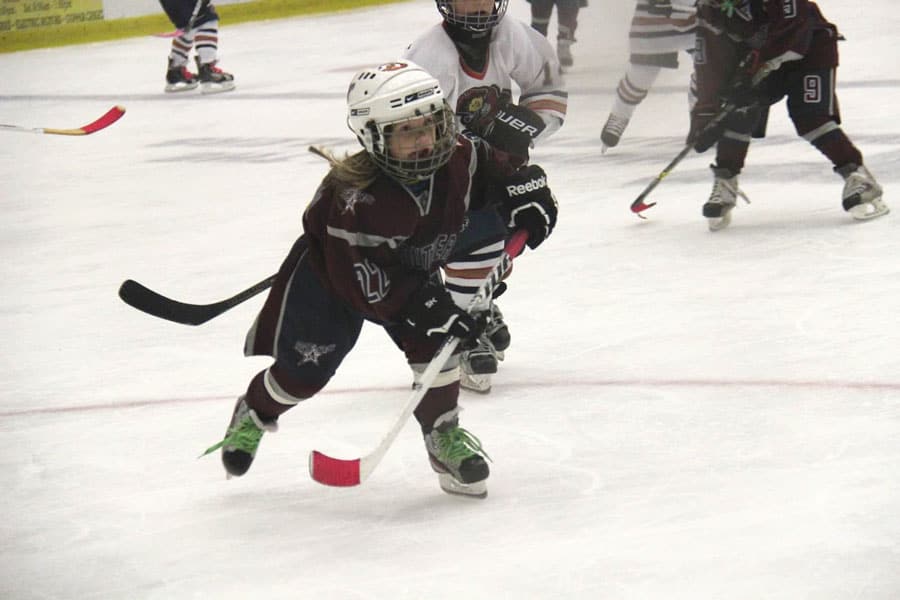 Even though it's been ages since you've glided around the rink with your friends, your old blades (and hockey jerseys) are buried in the attic, your knees are failing, and you're not entirely sure you can stand, move, glide, stop, turn, or fall without injuring or embarrassing yourself, you really should go ice skating this winter. If your kids' constant begging to (ital.)pul-eeez take us skating NOW isn't enough motivation, then consider this factoid from the U.S. Figure Skating Association: recreational skating is a low impact aerobic exercise that can burn between 250 to 810 calories an hour, reduce stress, and increase endurance.
To channel your inner Wayne Gretsky or Dorothy Hamill, proceed to the Milford Ice Pavilion (MIP). Built in 1975, this 1,000-seat skating rink is currently home to the Milford Indians, Notre Dame of Fairfield High School (boys and girls) and Staples High School hockey teams, Sacred Heart University Pioneers, Southern CT Youth Hockey, the CT Hockey League for adults, and the site of frequent pick-up hockey games. Additional programs include Learn to Skate, daily public skating sessions, birthday parties, and hockey camps.
John Lashar, co-owner of the Milford Ice Pavilion remembers when he and co-owner, hockey coach Marty Roos, "used to skate together in leagues. We share a passion for the sport and thought it would be a good idea to build an ice rink in Milford." He calls it "a family, youth-oriented recreational business."
A recent inductee into the Fairfield Country Sports Hall of Fame for his record-setting 536 career coaching victories, Roos considers his early morning rounds at the MIP "part of my retirement." Whether driving the Zamboni, inventorying the snack bar, or checking in with family members—son Perry (general manager), wife Eileen (office manager) and daughter Debbie (Learn to Skate director)—Roos strives to maintain "a community-minded gathering place for local hockey players."
"A lot of skaters grew up here and now bring their kids," says Roos. "From grass-roots programs to get kids started to adult hockey clinics, skating, group and private lessons, we offer something to suit every age and skill level."
Learn to Play Hockey
Designed to introduce beginners to the sport of hockey, this program runs in six year-round sessions and is open to boys and girls ages 3-12. Participants grouped according to age and ability are taught basic skills by instructors certified through USA Hockey. Kids learn puck control, passing, and shooting. They have practice drills, scrimmages, gain confidence, and have fun.
Kids who advance beyond the Learn to Play level can move into one of the Ice Pavilion's house league teams, where they experience a greater level of competitive team play. Or, they can elect to try out for a for a travel team run by the Southern Connecticut Youth Hockey Association.
"Youth Hockey is a big commitment from both players and parents, as there are more practices. We focus on player development," says Dr. Steve Hetherman, the 2014 (ital.)New Haven Register HS Hockey Coach of the Year (Notre Dame Fairfield High School). He currently enjoys coaching his son Ryan and his "Squirt A" teammates (ages 8-11).
Learn to Skate
These Saturday morning classes are geared towards beginning ice skaters ages 3-adult. "Come wintertime we average about 125 kids," says program director Debbie Roos. "Our re-enrollment in Milford (the Roos family also operates the Northford Ice Pavilion) is very good."
Roos is pragmatic about the time it takes burgeoning superstars to blossom. "Sometimes it's frustrating because parents think kids will just get up there and skate around," she says. "They're on this little blade, so some pick it up quicker than others. Adults can also do it, but it's all up to your attitude."
Anne Buccino-Katz, the MIP skating director agrees. "It's easier for kids than adults, who tend to think too much. But anyone can learn, even techniques like spins and jumps."
The Great Outdoors
Outdoor skating is something everyone should try for the sheer joy of the experience. Yet it does entail risks. According to an ice safety brochure published by the Milford Recreation and Fire Departments, "The City of Milford does not check or determine ice thickness and assumes no liability" for anyone skating on City ponds.
Still, longtime Milford residents have fond memories of skating on both the North Street and City Hall Duck Ponds. Paul Piscitelli, Milford's director of recreation remembers when these areas "would be full of skating activity, including hockey games, which were usually played on the North Street Duck Pond because it was larger. If the ponds were covered with snow, people would bring shovels to clear them and the Public Works Department would put a small vehicle with a plow on the ponds."
Former community development director Bob Gregory fondly recalls that outside skating in Milford included "a big 55-gallon drum behind City Hall with a fire to keep hands warm and toast marshmallows." Others may recall skating at Reverend Walker Pond on a flooded (and frozen) Washington Field, or on the short-lived portable ice rink at Fowler Field.
"Due to our mild winters outdoor ice skating has been rare," notes Piscitelli. "Last winter was the first in recent memory that people were back on the duck ponds enjoying this fun family activity."
While no one wishes for a colder winter, Milford recreation supervisor Bill Garfield, "hopes that this winter's weather conditions will allow for more outdoor skating." To this former high school and college hockey player and current goalie for a men's travel team, "There is no better feeling than being out there skating on the ice".
For more information please visit http://www.milfordice.com/ or https://www.milfordrecreation.com/info/activities/