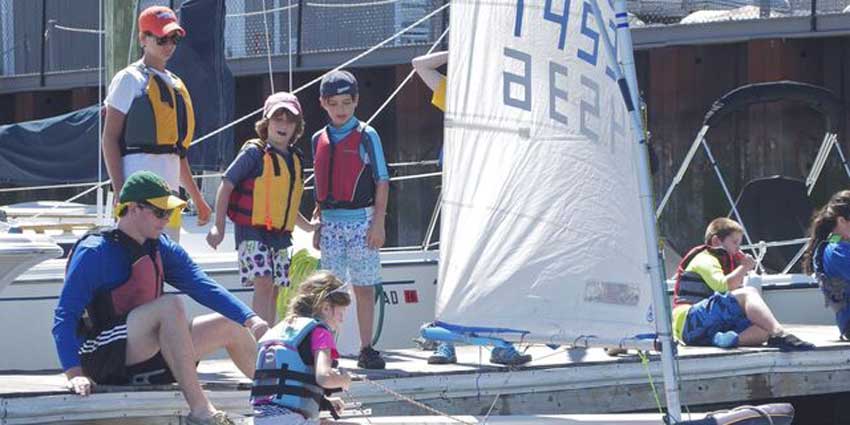 The Milford shoreline, being the longest of any town in Connecticut, offers many opportunities for youth and families to engage in an array of activities that are both educational and fun. Whether it's a spur of the moment walk along the Silver Sands Boardwalk, a bike ride along Gulf Beach, or enrolling in any number of organized programs offered throughout town, there is something to satisfy many different interests.
Start with a visit to Milford's Recreation Department website (www.milfordrecreation.com). There you will find activities ranging from a Bird Identification Camp along the trails and saltmarshes surrounding the Gulf Pond area, to exploration at Anchor Beach with Little Scientists, to the Marine Biology or Long Island Sound Science Camps that focus on identification of local marine life and habitats, the history of Charles Island, pirate lore, and more. If exercise is more your thing, look for the Beach Volleyball Clinic for Children or the Zumba and Hatha Yoga programs, all of which meet along the shore.
Look towards the bottom of the Recreation Department home page for another hidden gem—a link to the Milford Favorite Walks booklet compiled by the Environmental Concerns Coalition. The booklet includes 21 favorite walks around town as well as places to launch a kayak or canoe along our beautiful waterways. Many of the walking routes are bicycle friendly. You can also map out your own scenic route along the shore using the East Coast Greenway Trip Planner at  www.map.greenway.org. The planner will generate turn-by-turn directions that can be printed or saved as a PDF or GPX file.
If you don't own your own equipment, make a stop at Scoot and Paddle, a small shop tucked into the corner of Walnut Beach at the intersection of Naugatuck Avenue and Broadway. Here, owner Tina Pritchard offers rentals of bicycles, scooters, single and tandem kayaks, and stand-up paddleboards, including basic instructions on their use. "Our kayaks and paddleboards are versatile, easy to get back on, self-bailing, and unsinkable," she explains. In addition, one-hour group or private paddleboard lessons are offered  featuring on-shore and in-the-water instruction on how to paddle, how to stand, how to re-board, and more. Watch for the 2nd Annual Charles Island SUP Cup Race on June 19, billed as a family-friendly, full day beach party event for all ages! Scoot and Paddle will re-open for the season on May 1st and is open seven days a week during the summer. Find them at www.scootandpaddle.com.
For more intense boating instruction, the Milford Yacht Club offers a seven-week Junior Sailing Program for both members and non-members, ages 6 -18. While an additional fee applies to non-members, Bruce Scull, volunteer coordinator of the program, compares the total cost to that paid for summer camps and other activities children often participate in. The program begins in mid-to-late June and culminates with the Milford OPTI Regatta, which includes participation by 120-140 children from various yacht clubs along the Long Island Sound. The full day event runs up to seven races and includes lunch, donated by Subway, delivered right to the participants on the water. The goal of the Junior Sailing Program is to teach a love for the sport and to make the participants sailors for life. Younger children are acclimated to the water on an OPTIMUS sailboat with its single sail and simple design—one of the easiest boats on which to teach children to sail. Children transition to a larger boat with age and experience. You can find more information at www.milfordyachtclub.com.
Another option for organized activities is the Coastal Center at Milford Point and its adjacent Smith-Hubbell Wildlife Refuge and Bird Sanctuary, part of the Connecticut Audubon Society. Here you can choose from a variety of camps for children ages 3-15, or plan a day with the family winding through the 840-acre Charles E. Wheeler Salt Marsh on a guided canoe or kayak tour. The Center's full or half-day state certified camp boasts low staff-to-camper ratios and provides numerous programs with hands-on activities taught by professional educators and naturalists. For details visit the center at www.ctaudubon.org; click on "Locations" to find "Coastal Center at Milford Point."
So, as the warmer weather of spring and summer arrives, make a plan to get outside with the family, enjoy the area's greenways, beautiful landscapes and nature habitats, and take advantage of all the Milford shoreline has to offer.